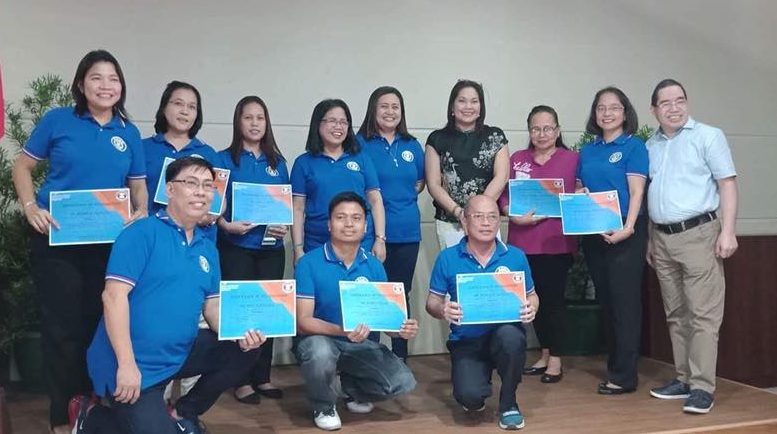 " No better learning outcomes if there is no better teaching performance. You must integrate, interconnect and interrelate RPMS with TIP and PPST. We must admit that during the first-three years of implementation of RPMS, there are some gaps that need to be addressed. You are all the chosen few, therefore, you should be coupled with a greater sense of responsibility. Give your full and undivided attention to this endeavor," Schools Division Superintendent Dr. Evangeline P. Ladines said during the three-days Division Roll-out on Results-Based Performance Management System held on June 20-23, 2018 at Jose Rizal Elementary School.
The comprehensive conduct of the activity aims to orient teachers with the recent RPMS Manual; acquire a clear understanding of the different tools of RPMS and for them to design implementation strategies as well as strategic framework to provide support mechanism in the school level.
Through DepEd Number 42, s. 2017, Philippine Professional Standards for Teachers (PPST) has been developed and nationally validated as part of reform initiatives on teacher quality. PPST set the standards on what teachers should know, be able to do and value to achieve competence, improved student learning outcomes and eventually quality education. It also articulated what constitutes teacher quality through well-defined domains, strands and indicators that provide measures of professional accountability that could help teachers reflect on and assess their own practices as they aspire for professional growth and development.
Division's RPMS enthusiasts were composed of the Schools Division Superintendent Dr. Evangeline P. Ladines, CESO V and Dr. Melody P. Cruz, Division Assistant Schools Division Superintendent as the Program Managers.Chief Education Program Supervisor Mr. Librado F. Torres served as the Training Manager, while Dr. Maripaz T. Mendoza, Education Program Supervisor In-charge of Science; Dr. Azucena L.Evardone, Public Schools District Supervisor of Cluster 3; Dr. Myrna B. Martino, Public Schools District Supervisor in-charge of Cluster 1; Mrs. Emilia L. Tolentino, Principal IV of Kalayaan National High School; Mr. Romy P. Socao, Principal II of Maricaban Elementary School; Mr. Noel P. Miranda, Senior Education Program Specialist II – HRD; Ms. Jessy Reyes, Education Program Speacialist – HRD; Ms. Ivy Tanglao, Assistant Principal II of Pasay City National Science High School and Mr. Rouell Santero, Assistant Principal II of Pasay City East High School served as the trainers of the abovementioned learning and development (L&D).
Mentors of the said L and D underwent a week-long Regional training at Sequioa Hotel Quezon City last May 14-18, 2018.
Highlights of the Division Learning and Development were Orientation on Philippine Professional Standards for Teachers, Career Stages of Teachers, RPMS Tools such as Class Observation Tools and Self-Assessment Tools for Teachers and Master Teachers, Portfolio Preparation and Organization, Annotation and Portfolio Assessment. Attendees were provided various group activities that helped them internalize every comprehensive discussion of each topic.
Assistant Schools Division Superintendent Dr. Melody P. Cruz parked the workshop be leaving a remarkable challenge to all Master Teachers and School Heads that professional growth and quality teaching skills of every teacher lies on their mighty hands through leading with a heart.