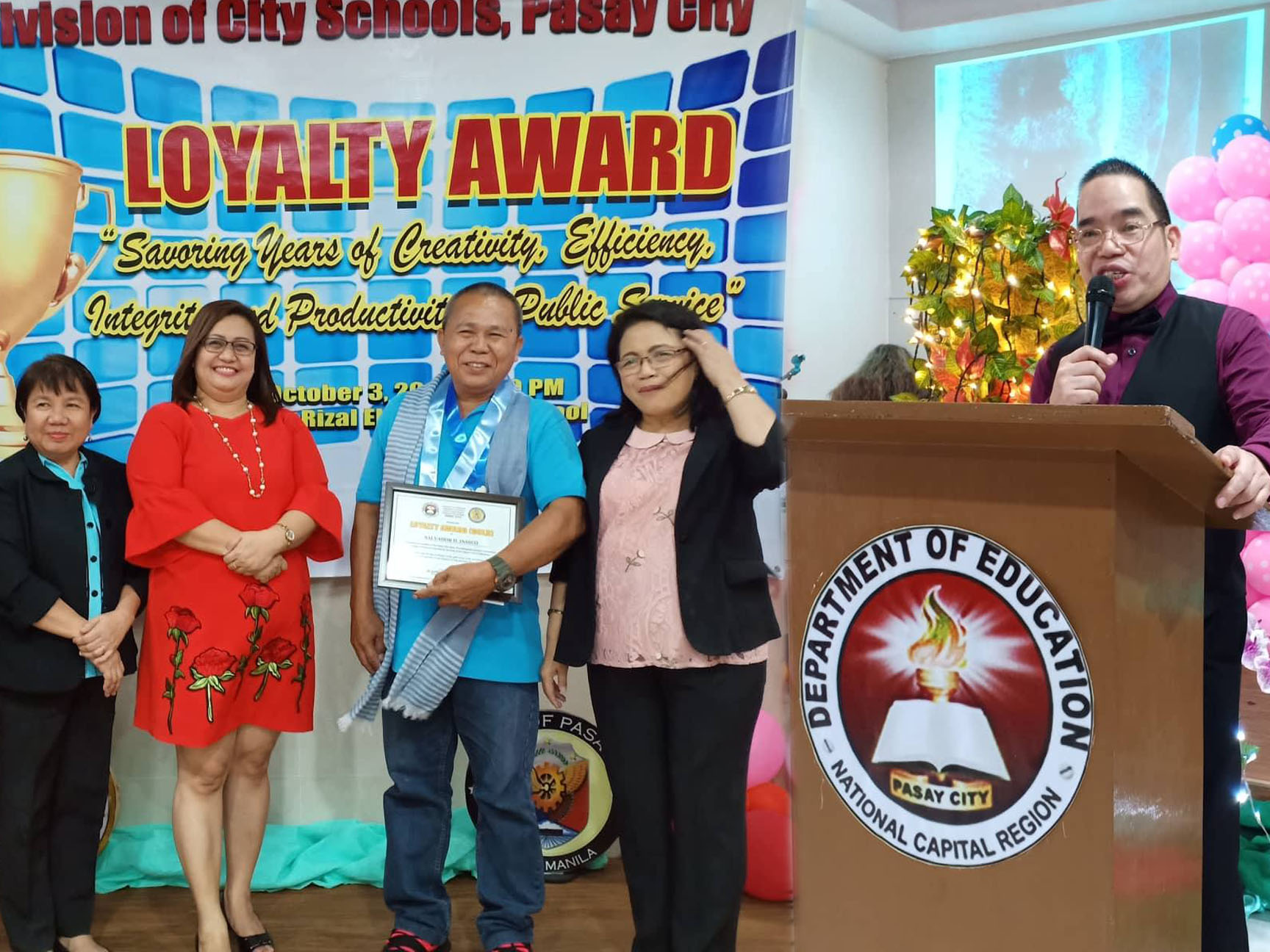 A total of one hundred four (104) Teaching, Non-Teaching and SDOP officials received loyalty awards for rendering 25, 30, 35 and 40 years in public service on October 3,2018 at Jose Rizal Elementary School.
This year's theme, "Savouring Years of Creativity, Efficiency, Integrity and Productivity in Public Service" marked the significance of the quality of services rendered by the awardees.
In the opening remarks delivered by Dr. Melody P. Cruz, OIC Assistant Schools Division Superintendent she acknowledged the untiring efforts of the focal persons of the said event headed by Mr. Librado F. Torres, Chief Education Program Supervisors.
The National anthem, Doxology, Pasay City Hymn and an intermission song number were presented by the KORO RIZALENYO, the choir of Jose Rizal Elementary School.
In the presence of the SDO Officials and School Heads, Dr. Evangeline P. Ladines, Schools Division Superintendents addressed the awardees with these statements, "I am certain that you will not last long if you do not have Creativity, Efficiency and Integrity that lead you to become more productive and loyal to SDO Pasay". She further congratulated them for sustaining their stay and loyalty to the SDO. She also wished the awardees good health, wisdom and enough resources for them to remain in service to the stakeholders.
The highlight of the event was the Awarding of Certificates to the Elementary Schools and Secondary Schools Teaching and Non- Teaching Personnel, SDOP Officials and Personnel.
Meanwhile, the crowd applauded the heartfelt rendition of the" Songs of Success "showcased by the selected teachers in the Philippine School for the Deaf.
The activity ended with the speech from Rowela R. Cadayona, Master Teacher II, T. Paez Elementary School, the representative and the voice of the awardees. In her message she used the acronym GURO…G stands for God's grace or grasya ng Diyos,U stands for ups and downs ng pagiging guro, the joy and challenges of teachers, R stands for Recognition like the awards, certificates medals but the greatest recognition according to her is when a teacher was able to teach the learners how to read and write and lastly O stands for Opportunity to serve the school, the community, the parents and most importantly the learners.
The Loyalty Awards is one of the integral part of Project PRAISE which is designed to give recognition to the outstanding performances, accomplishment, heroic and extraordinary acts of employees in the Division of Pasay.